:Links:
Would you like to trade links? Link KarlaRuizArt.com to your links page, after doing so contact me at suicidekitten@yahoo.com to let me know that you have linked my page; I will get back to you and link your site as soon as I can.


link: http://www.KarlaRuizArt.com/index.html
More Banners Here
NOTE: I do not trade links when my link is put in rotational banners or when my link is not immediately visible, unless you get A LOT of traffic then I don't mind.s++++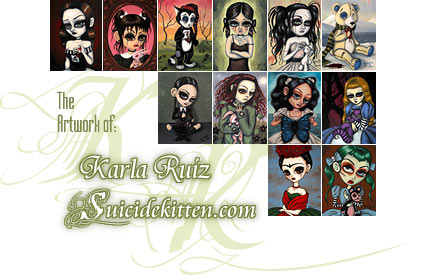 Visit my Ecrater where I have all my original art for sale!
:Green Dragons Den:
A personal collection of Original Artwork
:Blonde Blythe:
The Art of Blonde Blythe
:Seamless Images:
The Art of Andy Robbins
:Goblin and Crumb:
Specializing in Unconventional Leather and Doll Sculpture
:Noircissant's Art:
The Art of Noircissant
:Silvery Witch:
Intoxicate your Mind

:Printed Existence:
Digital Dreamland

:Heretic 13 Inc.
Hair Falls, Accessories and More...
:Home of Little Dead Gyrl:
Shelter for Misfit Dolls
:Kittycat Black:
Gorgeous Handmade Jewelry!
:Tattered Rags:
Handmade Creepy Rag Dolls
:Wicked Curves:+++
High-quality corsets from Vollers of England. Leather & PVC lingerie in regular and plus sizes.
:My Little HALO:+++
Alternative Clothing
:Yaguza:
Punk, Rock, Rockabilly Clothing, EMO Fashion Accessories
:Gorey Details:
Huge Selection of Spooky Art and Gifts

:GothicMatch.com:
The best Gothic dating site!
:123 Greetings:
Free Greeting Cards
:Gothic Online Romance:
The best and largest dating site for gothic, goth , punk, vampire, metal, industrial,
fetish, goth rock, occult, skulls, monsters, dark, darkwave, mysticism